Opening the workshop development of online games - 3rd OGDC
HCMC, July 19, 2014, today, the workshop development of online games - 3rd OGDC took place in VNG Corporation, with the main theme: "Mobile Game - The next big thing". The workshop was attended by 30 speakers with 24 threads, attracting over 700 people interested in the online game industry, sign up to attend.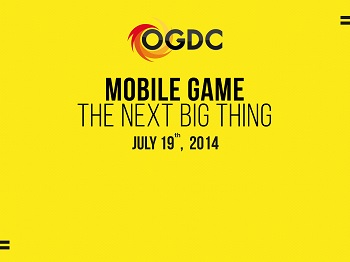 According to statistics, about 90% of the online game is not successful right from the production and 9% failed to enter the marker, Just only 1% - the best online game ( or luckiest ) can survive and profitable for investor. This is the reason why OGDC 2014 will be have a Panel Discussion with 4 Guests: Mr Le Hong Minh (CEO VNG), Mr Nguyen KhanhTrung (Director Game Studio North – VNG), Mr. Ta Nam Anh (Director Mobile game – VNG) and Mr. Nguyen Tien Dung (CEO Zoygame). With the discussion about the matter of "How to build a Studio Game?" 4 Guests and attendants will handle these questions relate to how to build a sustainable business in this field.
Beside the discussion which considered as the highlight of this program, in OGDC 2014 speakers will also focus on sharing the opportunities, potentiality and experience in the research, development, operation and release online games for development of Vietnamese mobile online game. Experts from Google also come and to share with the online game makers in Vietnam how to use Google products effectively in online game development and how to release, create profit from it.
One more different characteristic of workshop OGDC 2014 is the potential business opportunities that OGDC opens for those companies. Believe that the connection between online game makers in the local country and abroad are the way to build and strengthen communities Vietnam's online game. Organizing Committee of Workshop OGDC 2014 has boldly dedicated one area "Biz matching room" where the young online game makers can find the best investments for their development or large investors can find their most potential partner about online games maker.
To learn more detail about workshop OGDC, please visit:
http://www.vng.com.vn/ogdc